Most of you, may not know about Blue Holes? How they formed and what are most beautiful Blue Holes in the world. A Blue Hole is an underwater sinkhole created with erosion of carbonate bedrock. Its appearance seems a dark blue circle of water on the ocean.
It developed in a bank or island contain influenced fresh water, marine, or mixed chemistry. The Halocline point of blue holes meets the freshwater and saltwater. At this point, corrosive reaction takes place which eats away the rock and create side passages or horizontal arms from the vertical cave. 
Blue Holes once lying above the sea level thousand of years ago, but as the time passes it open to the surface and formed by composed of a carbonate bedrock "limestone, or coral reef". The Blue holes are illustrious from cenotes in that the latter are inland voids normally holding fresh groundwater rather than seawater.
The process of dissolution of soluble rocks and intense karst activity created large vertical caves. When the ocean level rose up due to melting of glaciers these blue holes became submerged. Owing to their depth, the greater absorption of sunlight increases their depth, creates a dramatic contrast with the lighter blue of the shallows around them and forms a natural outline that can be easily seen from the surface. 
Many Blue Holes provide access to submerged cave passages. Some of best Blue Holes examples are.
Dragon Blue Hole, China
Great Blue Hole, Belize
Dean's Blue Hole, Bahamas
Guam Blue Hole, Great Barrier Reef in Australia
Dahab Red Sea Hole, in Egypt
Watling's Blue Hole, San Salvador
The Blue Hole of Dwerja Gozo, Malta
Santa Rosa Blue Hole, New Mexico
Great Blue Hole, Belize
On the coast of Belize, a small country on the eastern coast of Central America. This country has the famous Great Blue Hole is a giant marine sinkhole near the small atoll center of Lighthouse Belize City. A circular shape hole formed with quaternary glaciation when sea level was very low. It is 1,043 ft across and 407 ft deep.
Great Blue Hole is a World Heritage site a part of Belize Barrier Reef Reserve System. Great Blue Hole shows formation took place around 15,000 years ago. This hole is among the five best widespread spots for recreational scuba divers.
The divers enticed the opportunity of dive in crystal clear water with mesmerizing fishes, Caribbean reef shark, bull shark, hammerheads, and other juvenile fish. Discovery channel ranked Great Blue Hole is Top Spot in the list of Most Amazing Places on Earth. Different fossils existed in blue holes, such as crocodile and tortoise fossils.
Source: Wikipedia
Dean's Blue Hole, Bahamas
Bahamas, Dean's Blue Hole is world's deepest salt water blue hole. It is circular shape hole at the surface with a 82 to 115 meters diameter. After descending 66 ft, the blue hole widens into a cavern with a diameter of 330 ft. This blue hole located near Clarence Town on the coast of Long Island, The Bahamas.
It is also one of best blue hole for best diving and snorkeling site. Dean's Blue Hole formed due to underwater erosion dissolving limestone and chemical reaction. Many sea animals to be found inside Dean's blue hole.
Snorkelers and divers may spot snapper fish, tarpons, turtles seahorses, rays and various colorful tropical fish. Dean's blue hole is a different one in many ways, connected to the Atlantic through an inlet on one side and framed by cliffs and white sand beaches on the other.
Source: Wikipedia
Dragon Blue Hole, China
Dragon Blue Hole is deepest blue hole in the world. It is 987 ft deep sinkhole, with a distinctive blue color water when seen from above. Almost 330 ft deeper than Dean's Blue. This is located 25 KM from south of Discovery Reef in Paracel Islands.
It is famous as "eye" of the South China Sea. A stark contrast to the otherwise aqua waters that surround striking and beautiful formations of underwater entrances and extend below sea level, mirroring the appearance of a sinkhole.
Moreover, there are several fresh water sinkholes on planet earth, that are deeper than Dragon Hole. These include Mexico's Zacatón 1,099 ft, Pozzo del Merro in Italy 1,286 ft, and Hranice abyss in the Czech Republic 1,325 ft.
Source: Wikipedia
Guam Blue Hole, Great Barrier Reef 
The Guam Blue Hole is located about 100 ft. off the west coast of Guam an island in the Western Pacific Ocean. This rare blue hole is an open chasm that begins at 60 feet, opens to the sea at 130. The scuba divers can see along the reef top some fishes like dogtooth tuna and eagle rays with dolphins and pilot whales can also be found occasionally.
It is strictly bound for skilled divers. Because, the shore line of the Blue Hole is a cliff of almost 150 ft high, hence there is no beach entrance. It is only accessible via boat. Though, besides diving, Guam Blue Hole is a paradise for photography. Also, for Corals, one have to dive at Hap's Reef, located outside Apra harbor or Finger Reef, inside Apra Harbor, which has a wonderful accumulation of corals.
Source: You Must See
Dahab Red Sea Hole, in Egypt
Dahab Blue Hole located on the southeast Sinai, Egypt on the coast of Red Sea. A submarine sinkhole, with the depth of 328ft with a 20 ft shallow sea. The it also known as "the saddle" and 85 feet long tunnel "the arch". The Blue sinkhole surrounding area have an plenty of coral and reef fish.  And ideal hot spot for free diving because of the depth directly accessible from shore and the lack of current.
It is considered deadliest dive site in the world. It has claimed the lives of 150 to 200 divers. Dahab Red Sea Hole is most dangerous as with differing explanations given for its high death rate. The Blue Hole enter "The Bells" is from the shore. At 26 meters of the bottom of Bells divers do not get to see the Blue Hole arch when doing the Bells to Blue Hole dive.
Source: Wikipedia
Watling's Blue Hole, San Salvador
The Watlings Blue Hole is located on the Bahamian island of San Salvador. The karst feature of Watlings Blue Hole is formed by the erosion of limestone, made of calcium carbonate, a mineral that can dissolve in water especially in acidic water. When the limestone dissolves, it gives off carbonic acid, and even more able to dissolve limestone.
Once, the limestone dissolves the remaining part abruptly dissolves more, and result in formation of a deep blue hole around the spot where the limestone first began dissolving. In fact, Watlings Blue Hole has incredible water chemistry, has no fresh water anywhere not even a tiny lens on top.
Thus, this sinkhole must link all the way to the ocean to let salt water flow in continuously to dominate the system. The sinkhole is sitting in the middle of rainy Tropical Island, signifying that the hole must be connected to the ocean by an underground tunnel.
Source: CP
The Blue Hole of Dwerja, Gozo
The Dwejra Gozo Blue Hole is another most popular diving site in Maltese archipelago, in the Mediterranean Sea. This site overlooks the beautiful Azure Window and starts in a fantastic 10m wide inland sea pool which leads into a large crevice and through to the open sea.
One can see a natural rock arch with crystal clear blue waters that is your doorway leading to the open sea. Gozo Blue Hole is a 15 meters deep and 10 meters wide underwater hole connected by a tunnel to the open sea.
Source: Malta
Santa Rosa Blue Hole, New Mexico
The Santa Rosa Blue Hole of New Mexico is circular bell-shaped pool for scuba diving and training. It is one of most popular diving destinations, is an artesian once used as a fish hatchery.
The crystal-clear water with constant 62 °F (17 °C) temperature and constant inflow of 3,000 US gallons per minute (11 m3/min; 2,500 imp gal/min). However, Santa Rosa surface is only 24 meters (80ft) in diameter and 40 meters at the bottom.  Due to its high elevation, (1,407 meters), divers must use high altitude dive tablets to compute the dive profile and decompression stops.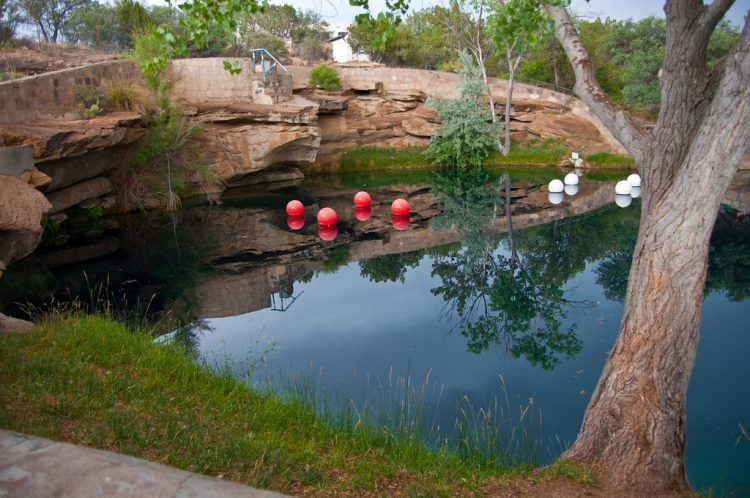 Source: Wikipedia
These are the above Blue Holes in the world, where you would feel to swim into the earth forever. These geological phenomenon sinkhole fills with crystal clear water and becomes vertical void in the landscape. The fantastic marine life such as parrot fish, Schools of Bream, Moray Eel, Lobster, Octopus and much more for all level of divers as there are several depths and routes to choose from.
Originally posted 2019-07-07 12:36:37.