Turnip Rock is a beautiful geological formation in Michigan. It is wondrous stack formation located in Lake Huron a few meters off the coast in Port Austin. The massive stone formed after a millennium of being worn by crashing waves thumping across its bow. In prehistoric times, Turnip Rock gets separated from the mainland. Then with the passage of time, some small trees engulfed the rock. The powerful stormy waves undercut the large cross-section of its base.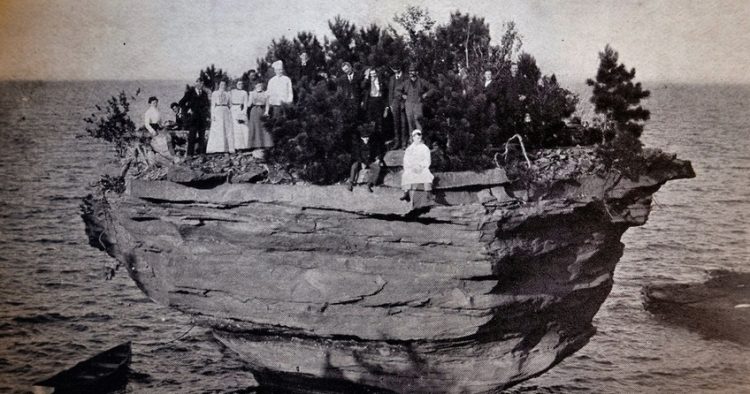 The exclusive formation attracting thousands of visitors each year, despite it, is located on private property. Turnip Rock was part of 20 finalists of Seven The wonder of Michigan in 2013. Turnip Rock only accessible through water and no public road there or slogging across the frozen surface of Lake Huron. Moreover, to prevent the further undercutting a concrete collar has been built around the base of the rock.
The mesmerizing sculptured landmass is full of serenity. One can see about 20ft high trees and vegetation, acrobatic squirrels and very little else on the top of the isolated rock. However, on the west side, you can find thumb rock also called Thumbnail of Michigan.
Getting to unique natural rock is not difficult as it's about a 3 to 4 hours of 7 miles round trip. The water around the Turnip Rock is comparatively shallow and does allow voyagers to park their boats and walk around.  Thus, one can upload a few photographs to all social media platforms. Also, be careful and put appropriate shoes, as the rocks can be quite slippery especially in the rainy weather.
The journey to soft limestone is for single kayak use only and is frequently accessible from March to mid-November. CNN called this place is one of the "Most Amazing Rock Formations" in the United States and Pure Michigan featured Turnip Rock on its magazine cover in 2016. Please keep important things with you, i.e., life jacket, sunscreen, sunglasses, towel, Mobile phone, and a dry bag. Also, take adequate water and something to munch on.
On the weekend, there are many paddlers enjoying the rock journey. If the area is quite rush, then move ahead to explore the cave, that features border the Pointe Aux Barques community. This cave was hideouts for fugitives for the late eighteen century. 
Related Reading !
Affiliate Products
Originally posted 2019-11-06 20:54:05.