Patagonia Lake is a 2.4-mile-long man-made reservoir in Santa Cruz County, Arizona, United States. The lake is located southwest of the town of Patagonia, Arizona and northeast of Nogales. The Lake is popular spot for fishing, camping, picnicking (table and grills), hiking, beach relaxing, bird watching, water skiing, and boating, created by damming Sonoita Creek.
The tracks of the Arizona-New Mexico railroad lie beneath the lake and leftovers of the old historic line may be found at the Nature Conservancy in Patagonia. Patagonia Lake never disappoint anyone who love nature.
The natural scenery is spectacular, that will provide you cool refreshing break from the heat. It is highly recommended to go early to avoid from evening rush. Also, some areas have beautiful shade coverage and lake front access. The 250-acre lake located inside the Patagonia Lake State Park established Sonoita Creek State Natural Area in 1975.
Moreover, an exclusive event includes an annual mariachi festival in March and bird tours and interpretive programs on request. Many Mexican Mariachi bands perform, and there is a variety of food vendors and arts and crafts booths. The Lake Patagonia is located on State Route 82, 7 miles south of Patagonia, tucked away in the rolling hills of southeastern Arizona.
It is an ideal place to lookout whitetail deer roaming the hills and great blue herons walking the shoreline. The hikers love to stroll along the creek trail, enjoying sight views, birds watching. The most common birds are Inca dove, black vulture, vermilion flycatcher, canyon towhee, green kingfisher, gray hawk, thick-billed kingbird, cardinals and tangiers are plentiful as well as orioles, and several types of hummingbirds. If you have forgotten anything with you, then there is a small marketplace in the premises.
The lots of fishing spots and a beautiful bridge overlooking a beautiful marina. Without any doubt, Patagonia Lake is prettiest desert Lake ringed with trees and desert vegetation. Summer temperatures range from 90 to 100 degrees Fahrenheit, while during the day it is somewhere 60 to 65 degrees Fahrenheit at night.
Patagonia Lake Fishing
There are several kind of fish species reproducing in Lake. They are black crappie, bluegill, largemouth bass, flathead catfish, redear sunfish, black bullhead, red shiner, mosquitofish, crayfish, Gila topminnows, speckled dace, longfin dace, Sonora suckers, desert suckers, threadfin shad, American bullfrogs, and channel catfish. Moreover, rainbow trout are stocked for every three weeks from October to March.
Read More – Graffiti Mesa, Valley of Names, California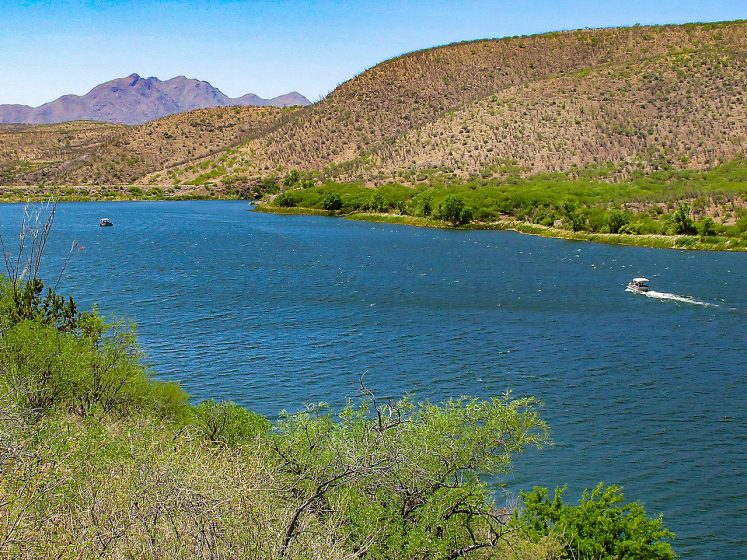 Originally posted 2019-07-11 20:17:49.