The award to the German doctor Gerhard Domagk of the Nobel Prize for Medicine and Physiology was announced in 1939. That is for his discovery seven years earlier of the "antibacterial effects of Prontosil." He was unable to accept the prize in 1939 because of a Nazi law. But he received the official diploma and the Nobel gold medal in 1947 from King Gustaf Adolf VI of Sweden.
Dr. Gerhard Domagk has been a professor at the University of Munster in West Germany. Since 1928 and director of the laboratory for experimental pathology and bacteriology at the Farbenfabriken Bayer in Wuppertal-Elberfeld since 1927. He is an editor of the Zeitschrift fur Krebsforschung (Journal of Cancer Research).
Dr. Domagk's discovery of Prontosil, the forerunner of the numerous sulphanilamide compounds now employed in the treatment of many diseases of the streptococcus family, is an outstanding therapeutic achievement. These drugs have saved the lives of innumerable persons.
Professor Domagk has done research also on cancer and tuberculosis. It has been said that his guiding motto is: "Whatever contributes to the preservation of life is good; all that destroys life is evil." Gerhard Johannes Paul Domagk was born on October 30, 1895, in Lagow in the province of Brandenburg, Germany.
He was the son of Paul and Martha (Reimer,) Domagk. His father was a teacher and the family lived in a schoolhouse across the lake from an old castle. Young Gerhard's first schooling was in the small textile town of Sommerfeld, where his father was called to be the vice-principal.
His secondary education was completed at Liegnitz in Silesia, which is now behind the Iron Curtain. The German population was driven out, according to Ralph E. Oesper in the Journal of Chemical Education in April 1954), and Domagk's mother, then over seventy years old, died from starvation in a fugitives' camp.
At the University of Kiel, Domagk began studying medicine in 1914, but with the outbreak of World War I, he went to Flanders as a volunteer with the Leibgrenadier Regiment of Frankfort on the Oder and fought in the "student army" at the battle of Langemarck.
In December 1914 he was transferred to the eastern front and was wounded. After his recovery, he was attached to the medical corps and served in the cholera hospitals in Russia, and at Verdun and on the Somme. In 1918, following the Armistice, he returned to his studies at Kiel.
His doctoral thesis, prepared under Max Burger, dealt with the precipitation of creatinine in humans after muscular exercise. He took the state examinations in medicine at Kiel in 1921 and received his M.D. degree.
After a period as assistant to Hoppe-Seyler and the pathologist Emmerich at Kiel, where he studied the role of the heart, muscles, liver, and kidney in various diseases, he worked under Walter Gross at the Pathological Institute in Greifswald.
In 1924 he was named a Privatdosent for general pathology and anatomy at the University of Greifswald and did research there on the use of X rays in nephritis and carcinoma. At the University of Munster, Domagk was appointed Privatdozent in 1925, and in 1928, professor of general pathology and pathological anatomy, a the position he still holds.
At Greifswald and Munster, he started his studies of the cancer problem. And, according to Ralph E. Oesper (Journal of Chemical Education, April 1954), "although his researches in this field uncovered some interesting and valuable facts, nothing of immediate curative value resulted."
Meanwhile, in 1927, he had accepted a position with the I.G. Farbenindustrie offered by Heinrich Horlein and became director of the laboratory for experimental pathology and bacteriology at YVuppertal-Elberfeld. In a systematic program, combining a Search for new dyes with a search for new drugs.
G. Farbenindustrie had postulated the preparation of a substance later called Prontosil at least as early as 1920. But apparently nothing further was done with it until 1932, when Domagk again became concerned with it. Nature (November 4, 1939) wrote: "It had almost come to be assumed that bacterial infections were beyond the reach of chemotherapy.
Domagk appears to have examined a series of dyes for their action on streptococcal infections in the living body, irrespective of a lack of disinfectant properties outside it." Around at the end of 1932. He found that Prontosil, a red dye prepared by Fritz Mietzsh and Joseph Klarer, had a remedial effect on streptococcal infections in living bodies.
After some confirmatory clinical tests over the next three years, he published his first paper on the subject in the Deutsche Medizinische Wochenschrift (February 15, 1935). That was describing the chemotherapeutic activity of Prontosil in the control of experimental streptococcal infections in mice.
The first organized trial of Prontosil on a uniform series of cases of streptococcal infections in man," according to Nature (November 4, 1939) made by Leonard Colebrook in Great Britain.
Meanwhile, it had been found by J. Trefouel, J. Nitti, and D. Bovet, in France, that a simpler, uncolored component of Prontosil, sulphanilamide, had a similar action. Moreover, there seems reason to believe that this is the direct antistreptococcal agent, being split off in the body from Prontosil.
Since then, each month has seemed to bring evidence of the therapeutic importance in some new direction of Prontosil, sulphanilamide. Also or one of the many numerous derivatives made from the latter in many countries.  The result of this development has the aspect of a revolutionary advance in therapeutics.
There will be general satisfaction among medical research workers and physicians in all countries, that the Nobel committee has thus recognized the pathologist whose initial discovery opened the way to such a great development.
When he was notified of the award, Domagk was forced to decline the prize in accordance with Nazi law, but after World War II. He was able to travel to Stockholm and received the gold medal and diploma from King Gustav Adolf VI of Sweden on December 10, 1947.
He also delivered his Nobel lecture, but by then it was too late for the award of the $35,000 prize money, which had reverted in 1940 to the Nobel Foundation funds. His interests have led him to research in other areas. Between 1927 and 1935 he also worked on a new Vitamin A concentrate and the treatment of piroplasma infection in dogs with trypflavin.
For almost twenty-five years he worked on the problem of tuberculosis. In 1940 he reported the discovery of the antitubercular effect of sulfathiazole, and in 1941. The discovery of sulfathiodiazole, the first anti- DR. GERHARD DOMAGK tubercular hydrazine compound.
Later he found that the thiosemicarbazones were effective hydrazine compounds against tuberculosis infections. In 1950 he discovered that isonicotinichydrazid V (Nesteben) and its hydrazones were best effective against human and bovine strains of tubercle bacilli, even streptomycinresistant ones.
Professor Domagk has contributed a few articles to medical journals. His results have been largely summarized in his several books:
Chemotherapie bakterialer Infektionen (Leipzig, 1939; third edition, 1944), written with Carl Hegler; Pathologische Anatomie und Chemotherapie der Infektionskrankheiten (Stuttgart, 1947); and Chemotherapie der Tuberkulose mil den Thiosemikarbazonen (Stuttgart, 1950), written with C. Arold and others.
He has received honorary doctoral degrees from the universities of Munster, Bologna, Lima, Cordoba, and Buenos Aires. He is an honorary senator of the universities of Munster and Greifswald, and an honorary citizen of Wuppertal-Elberfeld and Verona, Italy.
He is a commander in the Peruvian Order of the Sun. Domagk was awarded the Emil Fischer Memorial Plaque by the German Chemical Society in 1937, the Cameron Prize by the University of Edinburgh in 1938, and the Klebelsberg Prize by the University of Szeged, 1 Hungary, in 1938.
Gerhard Domagk married Gertrud Strube in May 1925. They had one daughter and three sons: Hildegard, Gutz, Wolfgang, and Jung. Dr. Domagk has blue eyes and blond hair and weighs 176 pounds. He belongs to the Evangelical Church.
For recreation he enjoys art, especially painting. He has been described as a "modest, kind person." He has said, I'm continuing my work in the field of chemotherapy, although I know that in all probability. I will never be able to help many people as will possibly be annihilated by a single atom bomb. Gerhard Johannes Paul Domagk died on 24 April 1964 at the age of 68.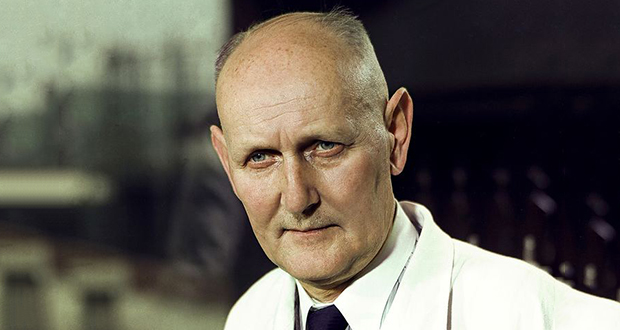 References I Cheni Ed 31:188+ Ap '54 Nature 144:777 N 4 '39 Sci Mo 50 :82+ Ja '40 por Silverman, Milton Magic in a Bottle (1941) Stevenson, L. G. Nobel Prize Winners in Medicine and Physiology, 1901-1950 (1953) Wer 1st Wer? (1955) Who's Who, 1957 Who's Who in Germany (1956) World Biography (1954)
Originally posted 2020-01-23 20:48:29.