No one can sense unforeseeable future. The nuclear war or biological warfare destroyed human being. The catastrophic war can killed most living beings and wipe out earth with radioactive fallout. Hence, in South Dakota, about 8 miles south of the town of Edgemont United States plan to save a small population of 5000 human beings in a remote underground shelter would be one of the few surviving pockets of civilization scattered throughout America.
These Doomsday Bunkers are equipped with protection against everything from bombs to bio-hazards. The company's latest offering, the XPoint, is advertised as the largest 'prepper' community on Earth.
The Doomsday Bunkers plan is proposed by California based survival company Vivos. Few years back the company acquired 18 square miles complex called Black Hills Ordance Depot. Which is completely retrofitted with full amenities like an internal power generation system, deep water wells, biological, chemical and radiation air filtration systems, sewage discharge, and critical support equipment?
The Doomsday Bunkers Design contains over five hundred nuclear-hardened concrete military bunkers, to some extent buried underground and protected by thick berms of earth, to resist a surface blast wave, as well as radioactive fallout. This area is strategically and centrally located in one of the safest areas of North America, at a high and dry altitude of 3,800+/- feet, well inland from all large bodies of water, and 100+/- miles from the nearest known military nuclear targets," Vivos says on they're website.
Instead of windows, LEDs are placed inside the bunkers to simulate the different views of the outside world. Therefore, every bunker is accomplished of withstanding a 500,000-pound internal blast. Each bunker is 26ft wide and 80ft long and can accommodate 10 to 20 people and the needed supplies for a year or more.
The bunkers are separated from each other by an average of 400 feet in all directions that will work in they're favor by providing security, protection and privacy. The Black Hills Ordnance Depot (BHOD) was constructed in 1942 and originally functioned as munitions storage facility during the Second World War and the Cold War period.
The Doomsday Bunkers were called Igloos because of they're characteristic shape. The complex was once spread over 33 square miles and contained over 800 igloos and all the amenities of a well-planned town including living quarters for over 1,000 people, an Army hospital, a post office, church, shopping center movie theater, including a theater, swimming pool, bowling alley and other mainstays of a small American town.
The Doomsday Bunkers igloos held all types of ammunition including chemical weapons and the deadly sarin and mustard gas. The history of World War II reveals, the site also held Italian prisoners of war. After the serving its object, the facility was closed in 1967. These bunkers were used by the Army in 1942 and built with reinforced concrete to withstand a 500,000-ton blast.
Peoples can now lease the bunkers to be used as shelters in the wake of a disastrous event. In case of any nuclear war, a viral pandemic or an asteroid strike at one-time upfront payment of $25,000 per bunker, plus a 99-year lease of $1,000 per year. Moreover, shared bunkers are also available at $7,500 per person.
Aside from the facility at South Dakota, Vivos also has shelters in the state of Indiana in a Cold War era bunker adept of accommodating about eighty people. Moreover, Vivos is also building a luxury private shelter in an underground complex in Rothenstein, Germany.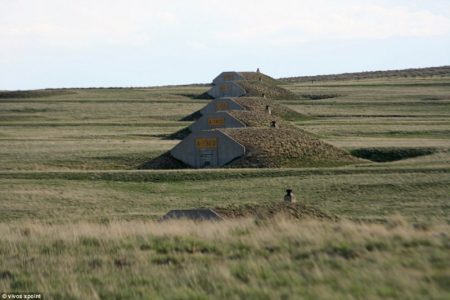 Also Read:
Source: Amusing Planet / Daily Mail
Originally posted 2018-07-31 21:34:10.