Appearance: Varied Tit adult males and females are similar in plumage coloration. The head is black with a fine cream streak from the crown to...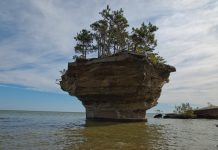 Turnip Rock is a beautiful geological formation in Michigan. It is wondrous stack formation located in Lake Huron a few meters off the coast...
The Dubai desert offers something incredible to every one – adventure by the gallon, a wonderful study in culture and for those who seek...
The Yellow-throated euphonia ranges from southern Mexico to western Panama, through the lowlands of both coasts and into the highlands to an altitude of...
Pisgah Crater or Pisgah Volcano is a volcanic cinder cone in the Mojave Desert between Barstow and Needles, California United States. Pisgah Crater is...