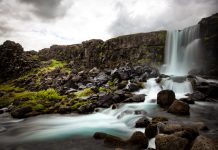 Oxararfoss (or more accurately) Öxarárfoss Waterfall Iceland is situated in Þingvellir National Park. The stunning 20-meter waterfall flows from the river Öxará over the...
Diamond Head Hawaii is a famous volcanic crater, located on the eastern edge of Waikiki's coastline. The most recognized landmark is known as Leahi...
1. Oenothera Well, Oenothera is a genus of about 145 species of herbaceous flowering plants native to the Americas. It is the type genus of...
Chatillion is a small village in Belgium actually to be home of vintage abandoned and beautiful rusty Cars Graveyard. This Cars Graveyard has since...
In North Carolina, near Brevard a sliding rock waterfall attracted thousands of visitors to take a slide all the way down the waterfall into...