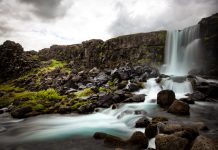 Oxararfoss (or more accurately) Öxarárfoss Waterfall Iceland is situated in Þingvellir National Park. The stunning 20-meter waterfall flows from the river Öxará over the...
By venturing into the 30-million-year-old limestone caves in New Zealand's North Island. The skilled photographer Joseph Michael was able to save enchanting photographs of...
Sapodilla or Sapota Fruits also called "Chikoo" is a most delicious tropical fruit in line with mango and kiwi. Sapota Fruits has joined in...
Ghaziser Lake or Ghaziser Jaheel is a wonderful Point comes on the way to Babuser Top. Its a majestic lush green outfield and water...
The tufted titmouse (Baeolophus bicolor) is a small songbird in the tit and chickadee family (Paridae). The North America bird black-crested titmouse, (Baeolophus atricristatus)...